ARRESTED for failure to appear in court on a FELONY and they just let him walk out of jail without anybody held accountable.
October 9, 2019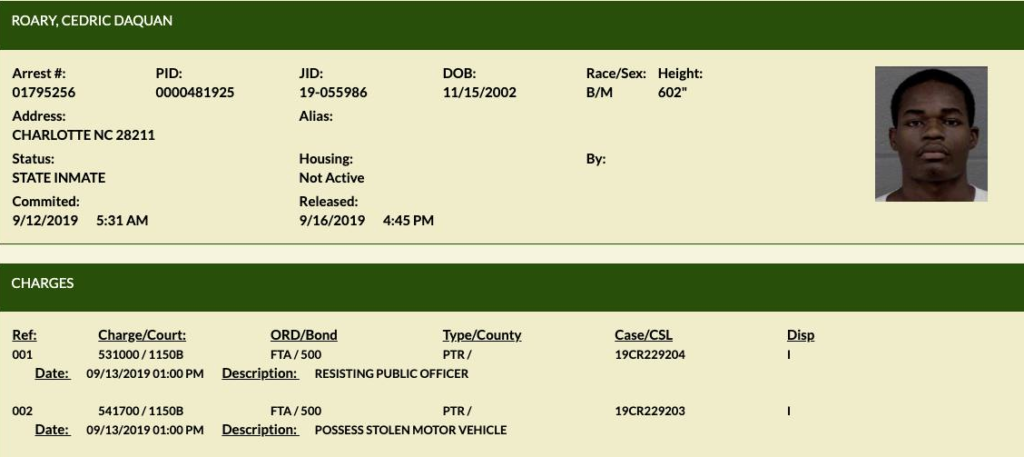 Read and watch the WSOC article below with Glenn Counts.
The bond amounts in Mecklenburg County are a "smoke and mirror" job on the public:
Mr. Cedric Roary, was not even out on BONDS in Mecklenburg County.
Arrested 07/10/2019 for:
FELONY POSSESSION OF MOTOR VEHICLE
CITATION FOR RESISTING PUBLIC OFFICER
He was released by Magistrate (FB) Francis "FRANK" Beer on a CUSTODY RELEASE (released to a person for FREE), with nobody held accountable!
Now that he was out on these charges, HE FAILED TO APPEAR IN COURT! He was rearrested on 9/12 for the 2 failure to appears in court and then he was released on your county TAX PAID PROGRAM (PTR) Pre-Trial Release aka: Pre-Trial Services on 9/16.
FTA (failure to appear) FELONY POSSESS MOTOR VEHICLE
FTA (failure to appear) RESISTING PUBLIC OFFICER
So someone goes to jail on a FELONY Charge and is released for FREE without anybody held accountable.
Now that he has already shown that he will not return to court on his own, he is rearrested on the FTA's and PRE TRIAL SERVICES lets him back out for FREE on YOUR TAX DOLLARS without anybody held accountable.
PUBLIC SAFETY???
Now he has been arrested in CABARRUS COUNTY, NC ON HIS CHARGES THERE. According to the bonds set in Cabarrus County, they must think more about public safety than Mecklenburg's Catch and Release
System.